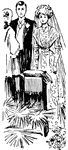 Below is a little segment of a portion that I have been reading. It has been a long time since I have taken the time to enjoy reading. It is sooo important to fill our minds with good things. This portion is free online through gutenberg.org
Dear Mrs. Coney,— ... I think every one enjoyed our Thanksgiving programme except poor Gale. She was grieved, I verily believe, because Mr. Patterson is not Mormon and could not take Sedalia and herself also. I suppose it seemed odd to her to be unable to give way to Sedalia as she had always done. I had cooked and cooked. Gale and Zebulon Pike both helped all they could. The wedding was to be at twelve o'clock, so at ten I hustled Gale into my room to dress. I had to lock the door to keep her in, and I divided my time between the last touches to my dinner and the finishing touches to Gale's toilet and receiving the people. The Lane party had not come yet, and I was scared to death lest Sedalia had had a tantrum and that Mr. Stewart would not get back in time. At last I left the people to take care of themselves, for I had too much on my mind to bother with them. Just after eleven Mr. Stewart, Mis' Lane, Sedalia, and Pa Lane "arriv" and came at once into the kitchen to warm. In a little while poor, frightened Gale came creeping in, looking guilty. But she looked lovely, too, in spite of her plaid dress. She wore her hair in a coronet braid, which added dignity and height, as well as being simple and becoming. Her mother brought her a wreath for her hair, of lilies of the valley and tiny pink rosebuds. It might seem a little out of place to one who didn't see it, but the effect was really charming. Sedalia didn't know that Mr. Stewart had given Gale her dress, so, just to be nasty, she said, as soon as she saw Gale, "Dear me, when are you going to dress, Gale? You will hardly have time to get out of that horse-blanket you are wearing and get into something decent." You see, she thought it was one of my dresses fixed over for Gale. Presently Sedalia asked me if I was invited to the "function." She had some kind of rash on her face and Zebulon Pike noticed the rash and heard the word "function," so he thought that was the name of some disease and asked Mr. Stewart if the "function" was "catching." Mr. Stewart had heard Sedalia, but knew "Zebbie" had not heard all that was said and how he got the idea he had, so he answered, "Yes, if ye once get the fever." So Zebulon Pike privately warned every one against getting the "function" from Sedalia. There are plenty of people here who don't know exactly what a function is, myself among them. So people edged away from Sedalia, and some asked her if she had seen the doctor and what he thought of her case. Poor girl, I'm afraid she didn't have a very enjoyable time. At last the "jestice" of the peace came, and I hope they live happy ever afterward. That night a dance was given to celebrate the event and we began to have dinner immediately after the wedding so as to get through in time to start, for dances are never given in the home here, but in "the hall." Every settlement has one and the invitations are merely written announcements posted everywhere. We have what Sedalia calls "homogenous"
Elinore Pruitt Stewart. Letters of a Woman Homesteader (Kindle Locations 411-433).