Crafting/Household supply
-works willingly with her hands
-layeth her hands to the spindle/distaff
-she maketh fine linen
Its that time of year, time to make sure all in your household are ready to be clothed and warm when they enter the frostbitten air. Below are a few patterns you may use to help supply your household with plenty of mittens, hats and scarves to keep everyone warm and cosy.
A fun Hat and Mittens Pattern can be down loaded
here.
Basic Scarf
click here for a printer friendly version of this pattern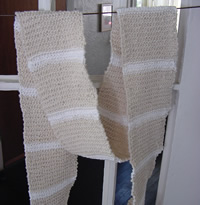 On US size 10 needles, cast on 20 stitches, knit every row. When desired length is reached, bind off.
Tan and White Scarf: Sugar 'n Cream Cotton, Ecru and White
Brown and Blue Boucle: Bernat Soft Boucle, Westport Shades, US size 11 needles
Black Fuzzy Scarf: Pattons Allure, Ebony, US size 11 needles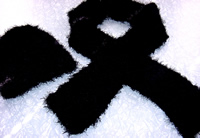 For more free patterns check out
Knitting Pattern Central